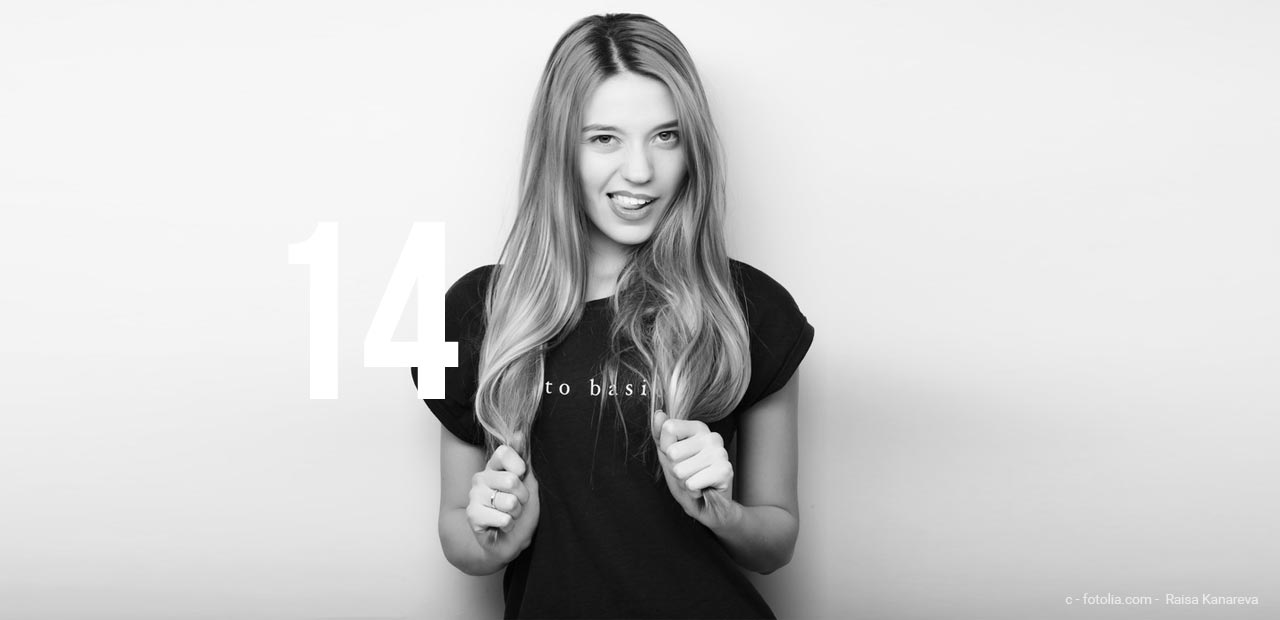 How to become a model at 14 years: School first!
If you want to become a model at 14, that is quite a good age to start. Normally at this age you are still in school, so you have 3-4 years to take a look in to the model world and do smaller jobs on the weekend or during your holidays. You have enough time to see if this is really the right thing for you and if you can imagin to continue modelling after school. At the time you are about 17-18, you will be ready to work as a professional model and will already have a model book, with great pictures. Most of the best Models all over the world started in the age of 14-16. Not every "normal" agency takes models with the age of 14, most of them start to take models with the age of 15+. If so you can apply in a children modelling agency or just take a year to take care of yourself, try somethings and practise for your future modelling jobs. If you want to know more about modeling, check out become a model or the blog: become a model.
You want to become a model at 14?
Plaintext. Become a model with 14 years
To become a model at the age of 14 is actually very difficult. Especially because you still have to concentrate on the school. Having good grades will help you in your entire life, even if you later have to calculate your fees as a model and z.b. Once you understand the exchange rate between the euro and the dollar. In addition there are many other questions, as well as a good language training, so that you also in commercials, with speech, fits perfectly. It is also about foreign languages ​​but also geographic knowledge. Do you want to be in a small talk with a customer "stupid" or ignorant? Assuming you speak about Asia and cities like Hong Kong, Shanghai or Tokyo, then it would be perfect if you can say a little bit about it as well. That's why the school is so important to you, whether it's your own language, a foreign language, math or geography. So you are perfectly prepared to work internationally as a model later.
Dream job modeling: build-up phase at a young age
If you still want to apply in a modeling agency, then you should make sure that they talk to your parents first. You should always be aware of your plans, because at the latest the agency wants to talk to your parents when you are only 14 years old. Being a model means more than just waiting for jobs, first you have to build up your model portfolio. In other words, you will have many test shoots with photographers to help you gradually collect footage. It does not depend on the amount of photos but on the quality of the photographer. If you apply for a good modeling agency at the age of 14, from the beginning you will only get to the best photographers in your city and in your state.
After the first model castings and jobs comes
After your model kit is set up, you will get the first jobs. Here's the next sticking point, if you want to be a model at the age of 14, you'll need to take off from school. Here we come back to the good grades, the better you are in school, the sooner your school and your teacher is ready to give you free.
Too often you can not afford the luxury, because there are always new exams to you. So if you want to be a model early, you should definitely have a lot of patience for your setup. You will not be able to do most of the jobs. For many customer requests, you must first give an option. An option means you are free this day. Will you be booked then, the job starts. However, if another model is booked, the day is free again and you do not have the job. If you have to get rid of the school every time, but only get one in four jobs, the school will eventually stop playing – understandably. That's why you need a professional and experienced modeling agency, she knows exactly which jobs she plays for you and which not.
You see, becoming a model at the age of 14 is not that easy, so be sure to be patient! It is best to wait until you are 15 or 16 years old, then the school will be over in the foreseeable future and you can concentrate fully on modeling.
Minimum measurements for models
As you can read in our article requirements for models, minimum dimensions, you should bring as a model a height of 174cm. If you want to work internationally as a female model, you should even be 178 cm tall. Your height should not exceed 181 cm, male models start at 185cm. If you are wearing high-heeled shoes as a woman, you would already tower over the first men, but with 181cm you are already very tall. For male models applies as I said a minimum size of 185cm. The maximum size should not exceed 195 cm. Whether male or female model, you should have a slim figure, pay attention to your diet and do sports. And sure, there are always exceptions.
Models and Sports: Defining instead of hardcore training
With sport, you should not overdo it as a model, your muscles grow too much, you do not fit in the standard sizes. As a woman you should train in a very defined way, but as a man you should also make sure that your muscles do not get too big. Why is that? For one thing, you just do not fit into the standard sizes of fashion designers as just described. On the other hand, in the field of advertising, models are ultimately elements of advertising, so that people can identify with the person (you). If your body or your proportions are too standard, fewer people will be able to identify with you and ultimately fewer people will buy your customer's product. So a lot of ambition and a bit of psychology or knowledge of human nature is part of the topic of modeling. Would you have thought that?
Apply in modeling agencies at the age of 14 years
If you still want to try your luck now, then send us your photos! All our model agency needs from you are two very simple photos you can do with your phone. Make sure that you stand in the daylight and that you send a portrait and a full body photo. In addition you send us still your most important measures and your contact data. With this you have taken the first step! Send us your model application now.
More tips for modeling
If you ever want to read through the most important tips for fashion shows, your first photo shoot or tips for your model portfolio and the first photo shoots with photographers, then check out our model blog, here you can get insider tips from our model agents, you help prepare your career well.
Supermodels who started with the age of 14 or younger
There are a few supermodels who started with the age of 14 or even younger. Below you can find some of the world most famous models who started with this age.
Karlie Kloss
Karlie Kloss was 13 years old when a Scout discovered her in St.Louis, her first time on a Plane.
Coco Rocha
Coco Rocha was discovered while a Dancebattle with the age of 14.
Christy Turlington
Christy Turlington was horse riding in Florida when she was 14, a photographer discovered her and only one year later she started her model carrere in Paris.
Gisele Bündchen
Gisele Bündchen was only 14 years old when she was discovered while eating a burger in Sao Paolo.
Do it yourself: Bust, Waist, Hips and Height
These are the measurements points for your first modeling agency application. Take care, that you are totally honest. More about: Take your own measurements for agencies, castings and jobs.
Modeling worldwide: USA to Europe and Asia
https://cmmodels.com/wp-content/uploads/2017/12/become-a-model-at-14-years-modeling-agency-help-girls-boys-new-york-los-angeles-london-berlin-measurements-requirements.jpg
620
1280
Laura
/wp-content/uploads/2023/01/cm-models-logo-web-agency-modelagentur-influencer-management.svg
Laura
2019-05-14 17:33:00
2022-04-18 20:37:33
How to become a model at 14 years: School first!