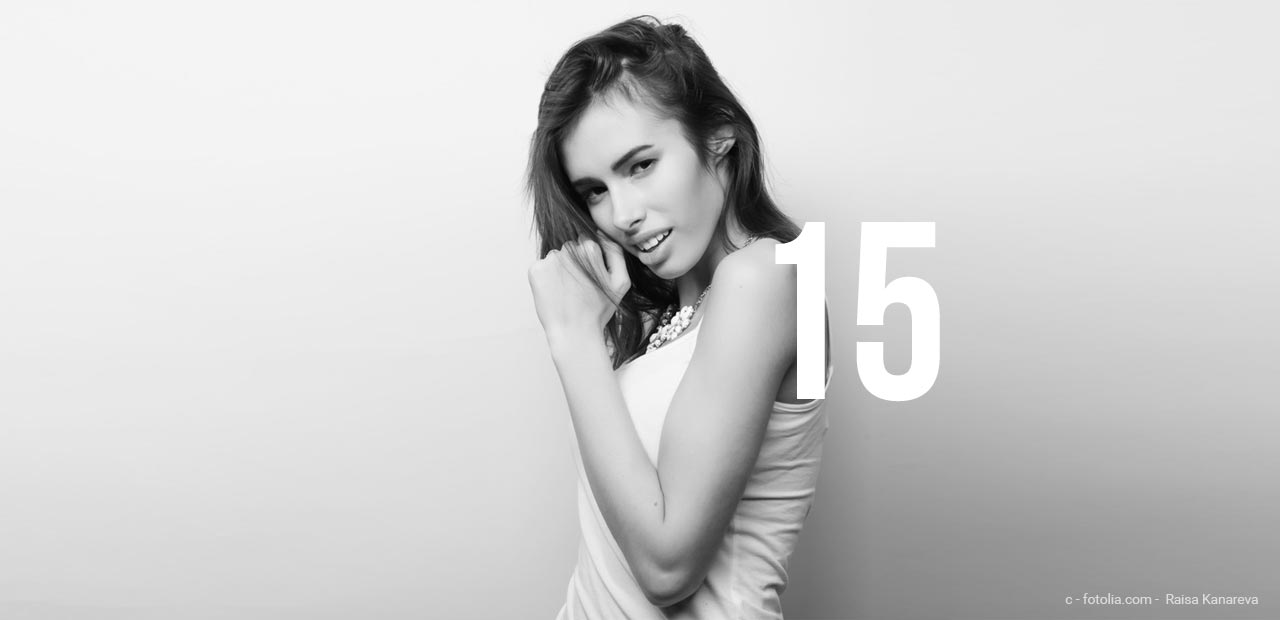 How to become a model at 15: Agency, jobs and application
If you want to become a model at 15, that is exacly the rigth age. Normally at this age you are still in school, so you have 2-3 years to take a look in to the model world and do smaller jobs on the weekend or during your holidays. You have enough time to see if this is really the right thing for you and if you can imagin to continue modelling after school. At the time you are about 17-18, you will be ready to work as a professional model and will already have a model book, with great pictures. Most of the best Models all over the world started in the age of 14-16. If you want to know more about modeling, check out become a model or the blog: become a model.
You want to become a model at 15?
At the age of 15, you will be very young, but you are getting closer and closer to your age, because it pays off to start as a model. If you have the dream of becoming a model you should always remember that you will also need a lot of time. First, it's about your setup, you have to collect first experience as a model and also the first photos for your model portfolio. Your model portfolio should be as extensive as possible, so that customers can imagine exactly what they would look like for their commercial or photo shoot. Here is a small example, a customer is looking for a model that should not only look good but also be able to ride a bicycle. This sounds easy at first, but you have to deliver perfect posings in the moving motion and your facial expressions must fit perfectly, which is a great challenge, for which you need a lot of experience. A little further thought it could be a couple shooting, for a contact lens manufacturer, also here you have to harmonize perfectly with your model partner, so that everything looks authentic and honest.
Your first jobs: Showrooms, Onlineshops and Instagram
If you have achieved this, partly acting experience, it is a long way. But at the age of 15, you are slowly getting into the age when it pays to work as a model. If you want to start as a model at the age of 15, you'll probably have your first jobs in showrooms. At such a showroom, fashion designers present their new collections. The invited guests are buyers of major fashion chains or fashion boutiques, domestic or abroad.
Showroom: Presentation of fashion in front of buyers
On such a showroom no photos or video are produced, you are only booked as a model to present the garments. The customer can make a direct impression of the cuts, fabrics and colors. Also about the processing and the body shape or fit.
Photo shoots for online shops, Instagram and commercials
Often you will also be booked for the first small photo shoots, z.b. for Instagram. In such an Instagram photoshoot, the customer books you directly to take 15 or 20 shots. Such shootings then take place twice a month instead of with different models. So the customer can always, that is every day, post a new photo. The models are different on each photo and so the Instagram channel comes alive. These are usually the first jobs.
Of course, as soon as you have more experience, the jobs would be much more demanding. From the online shop Shooting with 30 different parts to the commercial, where ultimately comes to a perfect second, in which you smile. The big challenge here, the whole set has to be right. If z.b. two models are booked and in addition 50 extras in a large location the a club, z.b. to promote a soft drink, then every moment must sit, that means every single actor must act perfectly. A second day of shooting is impossible, for personal and organizational reasons, moreover it would be very expensive!
You realize, the job of a model is really demanding! If you really want to be a model, then you need a lot of ambition and motivation, so you can compete with young models in the big competition. Your modeling agency or your management must always be able to count on you.
What does a model look like with the school?
The better your grades are and the more diligent you are in school, that it's easy to get free for a day or two. In particular, if your teacher or your school hears that you're working for a reputable client, like Prada or Dior, you'll usually get free if your achievements are right at school. Therefore, it is very worthwhile for you to make an effort in school, here you not only learn important things for life, but you also get to know many friends. You should enjoy the time!
If you still want to be a model …
Models who started Modeling with the age of 15+
When playing around in a Primark business, the 15-year-old Jourdan Dunn was discovered by a scout of the agency Storm Management – the same agency, which discovered Supermodel Kate Moss. Nowerdays Jordan is the face of worldwide campagnes like Zalando with US-Rapper Asap Rocky.
Do it yourself: Bust, Waist, Hips and Height
These are the measurements points for your first modeling agency application. Take care, that you are totally honest. More about: Take your own measurements for agencies, castings and jobs.
Modeling worldwide: USA to Europe and Asia
https://cmmodels.com/wp-content/uploads/2017/12/become-a-model-at-15-years-modeling-agency-help-girls-boys-new-york-los-angeles-london-berlin-measurements-requirements.jpg
620
1280
Laura
/wp-content/uploads/2023/01/cm-models-logo-web-agency-modelagentur-influencer-management.svg
Laura
2017-10-31 17:32:45
2022-04-18 20:37:25
How to become a model at 15: Agency, jobs and application